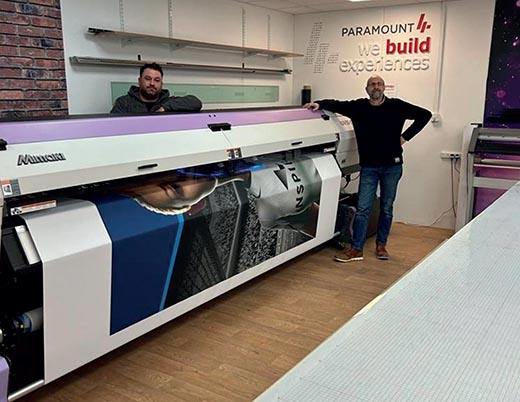 Gareth Jenkins, James Taylerson (L).
The move to UV LED production reflects the company's culture of excellence that has attracted blue-chip clients to its roster and generated growth
CMYUK, Shrewsbury. Paramount4 in Newbury has purchased a Mimaki UCJV300 –160 printer cutter from CMYUK. This 1.6m-wide UV LED roll to-roll printer was installed in December 2022. It will be used for vinyl graphics. It joins a Mimaki UJV55 – 320 UV LED 3.2m roll printer and Easymount laminator also purchased from CMYUK. This equipment replaces Roland, Jetrix and HP equipment.
Paramount4 is an event and stand-building business. It began 32 years ago, building stands for Bob The Builder. Although expo stands are still the company's main activity, they also offer print, build and install services for roadshows, conferences and set backdrops.
"We do a lot of agency work, so the clients that we have will ask us to do an office or retail fit out, one thing leads to another depending on what they want," says Gareth Jenkins, Project Manager, Graphics.
Gareth has worked for the company 22 years and has witnessed many aesthetic trends and technological innovations in digital graphics production. The business used solvent machines to print vinyl PVC. Exhibition graphics were printed onto paper, laminated, and mounted onto board back then. Eight years ago the business purchased a Jetrix dye sublimation printing machine. Despite being temperamental and hard to maintain, the printer brought soft signage to the forefront.
"I loved the fact that we could fold the printed fabric, pop it in a suitcase and get it over to Vegas or wherever. Clients were leaving artwork to the last minute, way after exhibition containers had been shipped to the States or Europe, so printing onto textiles made the logistics of our job much easier," says Gareth.
Embracing UV
The arrival of James Taylerson in June 2021 was a watershed moment in production. He is a Project Manager in Graphics Department and works with Gareth.
"I knew instantly that the business would really benefit from updating its equipment, and the revamp would provide the potential for bringing in a great deal more work. The company has really gone for it, and the results have been brilliant," he says.
Gareth and James combined their heads and researched the various print technologies. Then they weighed up the pros and con of each printer and assessed the business' suitability.
"We looked at what our maximum print widths were on jobs, the best quality for the best price, and a model which didn't incur massive consumables bills – the Mimaki UJV55 – 320 ticked every box," says James.
James, who had previously used Mimaki equipment, was impressed at how simple and user-friendly the interface was. Another plus in the Mimaki's favour was its good looks. "We're turning our graphics studio into a working showroom as many of our clients and colleagues visit here to see our print capabilities and look at the samples and finishes that are on display. The Mimaki UJV55 wasn't just the best on performance, it looks the part as well," says James.
James says that what sets Mimaki technology apart from other technologies is the vibrancy and quality of its colour reproduction. "What really jumped out is the richness of colour, and the balance between speed and quality. Also, installation was a breeze – literally plug and play, straight out of the box," he says.
To produce vinyl jobs, the UJV55 purchased the latest UCJV300/160 printer cutter in December 2022.
"With this UV LED printer, the quality is pinpoint sharp. It prints and cuts within the desired timeframes and is extremely easy to use. We can be more productive because we do not have to wait to switch from vinyl to fabric on the UJV55. We're now able to tackle different elements of a job at once which is much more efficient," says Gareth.
CMYUK Service
Since purchasing Mimaki equipment, the company has been sourcing its textiles through CMYUK. "When we bought the UJV55-320, we reached out to several suppliers regarding materials supply, but CMYUK was absolutely on the ball, totally proactive and interested in helping us find the best solutions," he says. The company uses UFabrik for backlit work and PONGS® SoftImage Contrast black back roll materials and both Gareth and James are impressed with the results.
"UFabrik backlit is beautiful. I've used different backlit products in the past and even with the most careful preparation in production once these are on-site, they crease and wrinkle leaving lots of bruising, however, with UFabrik we've found that this isn't an issue at all," says James.
"We outsource the silicon edging for our tension frame graphics, and the people that produce it have commented on the superior quality of our print on these materials. It's something when the trade starts noticing," adds Gareth.
Gareth, James and I have been impressed by the CMYUK service. "It's just been fantastic from our first demonstration onwards. Sue Hayward has been a great friend. [Sales Director, equipment] Paul Warwick [Regional Sales Manager, South] but we've got to know the machine demonstrators too, and if we ever have an issue – not that we've had any big problems – they're on the phone straight away, explaining things to us or showing us a better way. It's been brilliant. It's really good support," says James.
Paramount 4 also bought an Easymount 1600 Single Hot Laminator from CMYUK in order to provide greater protection for graphics that are being transported to expos around the world.
"Sometimes we over-laminate our PVC vinyl prints that are being used outside for added weather protection, but we also use it as security for ourselves. Most of the print we produce is flat. When it's shipped, many other objects are added to it. The extra lamination gives us peace of mind, an insurance against damage in transit," says Gareth.
A culture of excellence
The company's strategy to attract more high-profile and ambitious work is part of the investment in new equipment. It has proven successful. Says Gareth: "Everyone working here has developed a mindset of quality and it's become something special that is being noticed. It is a great place to have conversations with both new and established blue-chip customers. Our work is being recognised and everyone is starting to bang on our door."