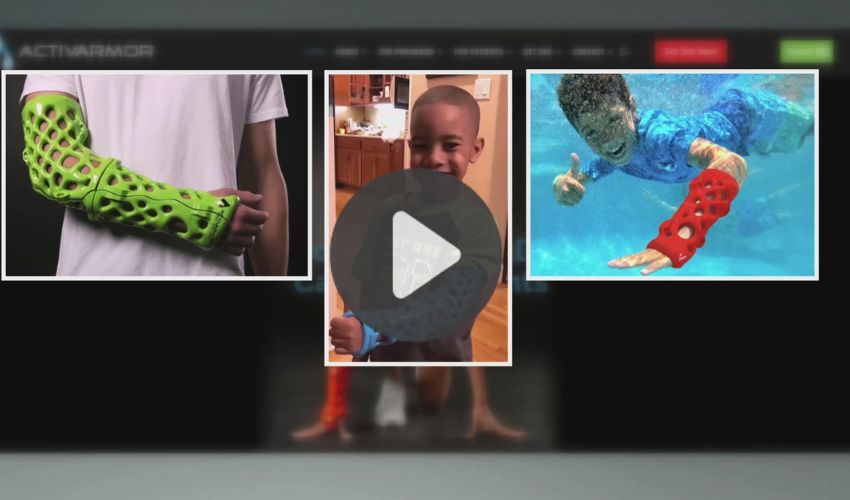 Sunday is here, so it is time for the week's top 5 3D printing videos! First up, don't miss this video about seventeen-year-old Serenity, who broke her arm riding an ATV; luckily for her, a custom 3D-printed cast potentially saved her from amputation! Next, we look at a video that looks at manufacturing in 2050. This video shows how technology and automation will change in the future. Then, we take a closer look at Relativity Space's recent Terran 1 rocket launch from a different angle and seek to understand how a children's hospital in Barcelona is using 3D printing to help tackle Pediatric disease. The last thing we want to share is a useful guide on how to export high-quality STL file! Happy Sunday and, as always, happy viewing!
Top 1:  First Louisiana Patient Receives 3D Printed, Custom-Fit Cast
Innovative medical technologies can help speed up the recovery process if you break a bone. A lightweight 3D-printed cast is now available that can be customized to your exact specifications. Serenity Cheramie is an adventurous character. She enjoys laughing and having fun with her friends, but this began to cause problems a year back. Cheramie, 17, explains. "I was on an ATV and traveling too fast. Me and my buddies spotted like a hole in the ground and she turned the wheel this way and I turned the wheel that way and we flipped." Two broken bones and a large-open tissue lesion were some of the traumatizing injuries that occurred to her arm in the aftermath. She was taken to New Orleans' Children's Hospital, where she was the first patient in Louisiana to receive a custom 3D-printed cast tailored perfectly to fit her arm. Watch the video to see the full story.
Top 2:  How Technology and Automation Will Transform the Industry in 2050.
This video will examine the potential manufacturing landscape for 2050.  The manufacturing sector is a large sector that will be subject to major changes due to technological advances and increasing automation. Below is a detailed look at new developments that are changing the manufacturing industry like additive manufacturing, artificial Intelligence, robotics and the Internet.  It is important to discuss how these changes will impact the environment and the worker. Automation is increasing the risk of job displacement. Retraining and education is required. The video will show you how industrial companies embrace renewable energy sources to make their organizations more sustainable.
Top 3: Terran 1 ASMR First Launch
From a 3D printing lab facility on earth into the dark cosmic atmosphere, the Terran 1 launch demonstrated Relativity's 3D-printed rocket capabilities, which will be used in Terran R, the company's next project. The demonstration wasn't only visually stunning; it was productive and substantial. This is evidenced by the fully-3D printed rocket's ability to surpass the Max-Q stress state milestone. Their cutting-edge additive manufacturing strategy is supported by this achievement. This was a remarkable victory and great watch. Listen to Terran 1 launch into space. The video below shows the launch.
Top 4: Barcelona Children's Hospital Embraces 3D Printing to Tackle Pediatric Disease
Sant Joan De Déu Barcelona Children's Hospital utilizes innovative 3D printing technology to promote scientific research and therapies for pediatric disorders, placing it at the forefront of European pediatric cancer research. The hospital has streamlined their internal processes, reduced the risk for complex surgeries, and improved its overall performance. It uses the Stratasys MediJet3D Printer to produce accurate anatomical models that can be used in pre-surgery preparation. In this touching video, you can see how a hospital saved the life of a 9 year old patient who had a complex cancer.
Top 5: How to Export High Quality STL Files
The video outlines the tale of two 3D-printed components, one of which has a flawlessly smooth finish while the other simply doesn't. Why do they look so different if both were made from the same model? This seems to be entirely CAD-related. Your export settings for STL files can have a significant impact on how the parts turn. Austin Vojta (a print systems engineer) is available to offer guidance. Austin shows how Fusion 360 can export high-quality STL files. He provides all the information needed to transfer a project into Eiger, and then print!
What do YOU think about custom 3D-printed casts? Let us know in a comment below or on our LinkedIn, Facebook, and Twitter pages! Don't forget to sign up for our free weekly Newsletter here, the latest 3D printing news straight to your inbox! You can also find all our videos on our YouTube channel.