Published on August 20, 2023 by Avery S.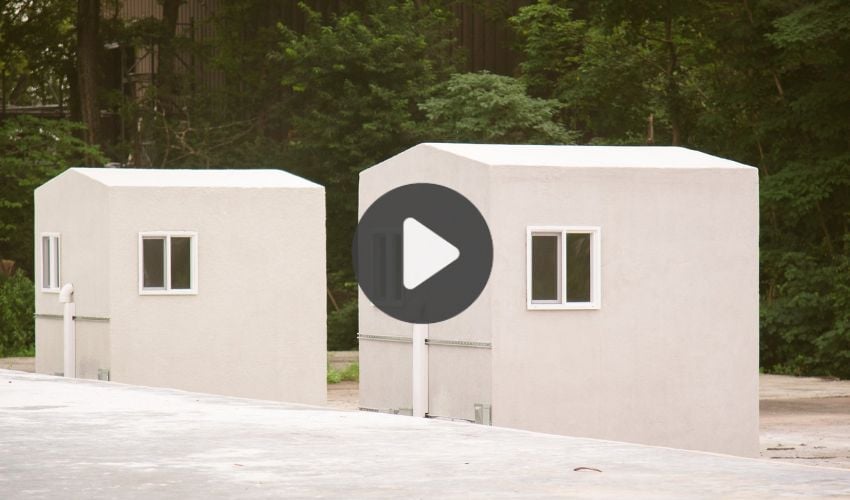 Sunday has arrived, and with it comes a fresh batch of the top five videos in additive manufacturing. Get ready for various colorful highlights, including insights into how additive manufacturing provides homes for the homeless, a 3D printed wallet to keep your money safe and accessible and how 3D printed vegan seafood is made. Additionally, you can look forward to a compelling story of two men being charged in Australia after a home raid revealed the unauthorized possession of 3D printed guns. If you have a penchant for 3D printing videos, our YouTube channel is the place to be. There, we regularly share interviews, reviews, and an abundance of engaging content just for you. So, why not check it out and stay up-to-date with the latest trends in the world of 3D printing? Happy Sunday!
Top 1: Homes for the Homeless Are Being Provided Through 3D Printing
In Chattanooga, Tennessee, two individuals have transitioned from 3D printed shelters to permanent housing, marking a progress of 60 days ahead of schedule. Branch Technology supplied the structures while Olivet Baptist Church provided the land. This initiative, part of a 12-month pilot program managed by the Office of Homelessness and Supportive Housing, aims to offer secure temporary housing solutions Mayor Kelly's administration has facilitated nearly 3,000 people into permanent supportive housing. The project exemplifies a diverse approach to addressing homelessness, with the cooperation of Branch Technology contributing to the community. The city plans to continuously relocate homeless individuals to these shelters, replicating the successful 30-day placement timeline achieved in this instance, subsequently facilitating their transition to permanent housing. Watch the video below to see how the transformative power of 3D printing is changing people's lives for the better!

Top 2: 3D Printed Wallet For Hassle Free Payment
Elderly individuals dealing with arthritis or rheumatism, as well as those with tactile limitations, frequently encounter difficulties with physical tasks in their daily lives. Reduced mobility and tremors can complicate tasks such as making payments at a supermarket, where retrieving cards or handling coins becomes challenging. A team of students from the University of Sydney has taken on this issue and developed a user-friendly wallet tailored for credit cards. Employing 3D printing technology, they brought the design to life, incorporating a locking mechanism as well. Explore the functionality of this innovative wallet and witness the responses of the participants in this featured Top 5 video.

Top 3: India's First 3D Printed Post Office
3D-printed homes are becoming increasingly common. It's rare for a week to go by without news of an exciting new project or updates on ongoing constructions, like the progress of Europe's largest 3D-printed building in Heidelberg. In densely populated and economically disadvantaged nations, the use of 3D printing in construction holds significant promise for the future: it offers cost-effective and speedy building methods that could have a positive impact on housing shortages. The recently inaugurated post office, which we first told you about a few months ago, was constructed using 3D printing and might initiate a movement in this direction within India. Gain insight into the 1,100 square meter post office in Bengaluru through the accompanying video.

Top 4: 3D Printed Seafood For Vegans
The oceans are being excessively fished, and the pace at which people are altering their consumption habits to address this issue is progressing too slowly. As we told you yesterday, the research team led by Ph.D. Huang from the National University of Singapore has identified that part of the problem stems from the limited availability of alternatives. The objective is to bridge this gap in the market through 3D printing technology. To learn more about their 3D printed calamari, watch the video below:

Top 5: Two Men Charged In 3D Printed Guns Bust
Two men from Western Australia have been arrested and charged following a four-month operation in which police seized multiple 3D printed guns. The charges include manufacturing and selling weapons. Properties across the state were raided, uncovering 3D printed guns, a 3D printer, electronic devices with schematics, and gun parts. The Deputy Commissioner of WA Police expressed concern over the potential risk posed by these weapons falling into the wrong hands due to their ability to fire live rounds. The accessibility of manufacturing blueprints online has contributed to the issue. An expert in 3D printing suggested stricter measures for removing weapon blueprints from the internet. A previous case involving an 18-year-old arrested for printing a working semi-automatic rifle highlights the ongoing concern. The charged individuals are set to appear in court on separate dates. Watch the video to lear more about the situation.

Which of the Top 5 videos did you like most this week? Let us know in a comment below or on our LinkedIn, Facebook, and Twitter pages! Don't forget to sign up for our free weekly Newsletter here, the latest 3D printing news straight to your inbox! You can also find all our videos on our YouTube channel.
*Cover photo credits: WDEF News