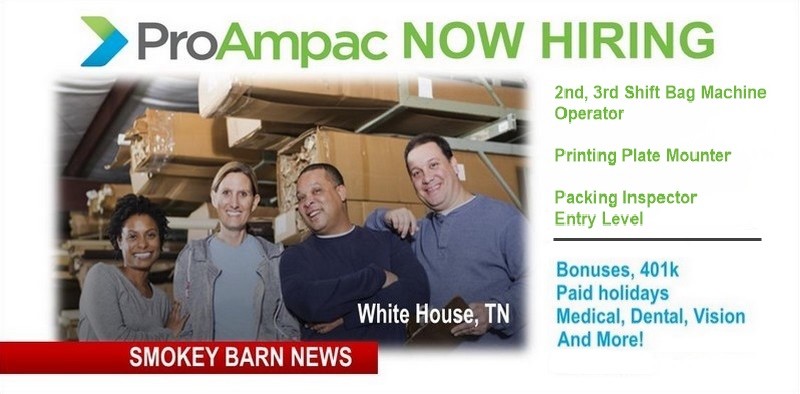 (Sponsored)
ProAmpac: HIRING Printing Plate Mounter, Packaging Inspectors, Conversion Machine Operators
WHITE HOUSE TENNESSEE: (Smokey Barn News) –ProAmpac, a leading global flexible packaging company with a comprehensive product offering is currently hiring at their White House facility. (MAP)
"Come work at a place to build your future and be an integral part of a fast-paced, safety-oriented, and growing industry! We are an ESSENTIAL employer and actively hiring Converting Machine Operators, Printing Press Operators, and many other positions at our White House facility in Tennessee.

ProAmpac's offerings
• Quarterly bonuses: perfect attendance bonus and gain sharing
• Premium pay built into your shift schedule
• 11 paid company holidays
• 401k with company match
• Medical, Dental, Vision, and other supplemental offerings
• Company-provided life insurance and disability
• Safety shoes and safety glasses incentive
• Wellness program – living a healthy lifestyle can get you a discount on your health insurance premiums AND other incentives
TXT PROAMPACCAREERS to 22633 TO START A APPLICATION Call 615-581 5341
Career Opportunities
3rd Shift Bag Machine Operator –> Learn more
White House, Tennessee
2nd Shift Bag Machine Operator –> Learn more
White House, Tennessee
Printing Plate Mounter –> Learn more
White House, Tennessee
Packing Inspector / Entry Level –> Learn more
White House, Tennessee
More Information about ProAmpac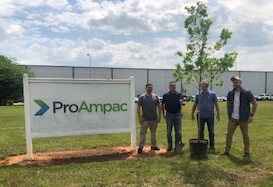 We offer innovative packaging solutions, outstanding customer service, and innovative innovation to a global market. ProAmpac's approach to sustainability – ProActive Sustainability — provides innovative sustainable flexible packaging products to help our customers achieve their sustainability goals. Five core values guide our work: Integrity. Intensity. Innovation. Involvement. And Impact.
Flexible packaging is moving forward. We redefine innovation by collaborating with our customers, suppliers and employees. ProAmpac brings together brand owners and experts in packaging to bring new ideas, speed up advanced technology, increase speed-to market, customize packages and differentiate for consumers.
Our collective core values, which are a result of the heritage of our small businesses as well as strategic acquisitions, have shaped our expertise. We are stronger, more responsive, and have a wider geographic reach.
We are ProAmpac together, the leader in global packaging industry change.
Scroll below to view the Latest Stories for Mobile or to share this article