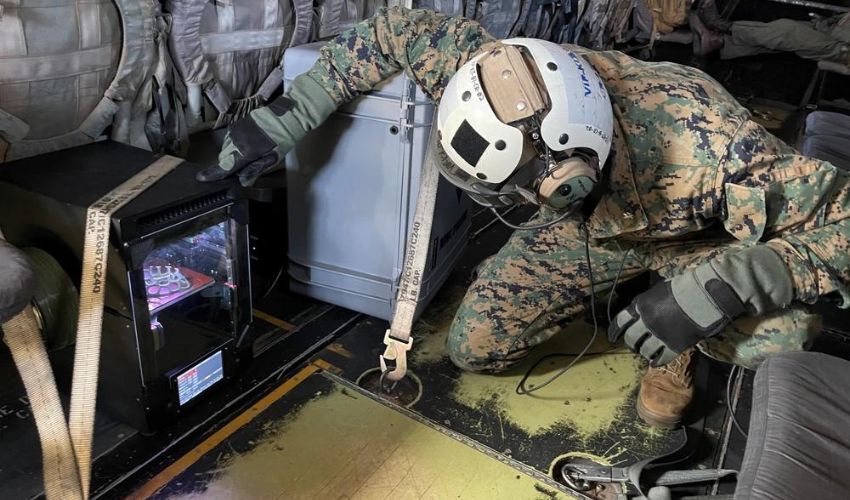 It is no secret that the U.S. military is increasingly turning to 3D printing for a number of interesting applications in the defense sector. Indeed, in the past few years, we have seen a number of projects including the use of additive manufacturing for submarine manufacturing, dental 3D printing on board Navy ships, in the Marines and more. Now even more exciting news has come out of the Consortium for Additive manufacturing Research and Education (CAMRE) at the Naval Postgraduate School (NPS). According to a press release, CAMRE along with the Marine Innovation Unit (MIU) and Marine Aircraft Group (MAG) 39 worked together for the first successful demonstration of in-flight 3D printing aboard a U.S. Marine Corps MV-22 Osprey tiltrotor aircraft.
You may have already heard of the Naval Postgraduate School. The California-based public graduate school is operated by the United States Navy and seeks to provide defense-focused graduate education to its students. It has also been one of the forerunners when it comes to pushing the limits of additive manufacturing in the military. In fact, It was the NPS that first researched capabilities for additive manufacturing for the Navy and Marine Corps, including by adopting the ElemX from Xerox to define different future applications. It should come as no surprise therefore that this latest advancement comes from them. Chris Curran, program manager at CAMRE explained, "We are in a unique position to rapidly support the joint force and accelerate the adoption of advanced manufacturing. This is just one of many events we are committing resources to where we share our research and deliver equipment and know-how to service members." 
Why Are the Marines 3D Printing In-Flight?
But why 3D printing? Well, for much the same reason as why additive manufacturing is being used in a number of different sectors. The flexibility and speed of the technologies are expected to drastically increase mission readiness, notably for rapid responses. It is especially valued for the 3D printing of swarm robotics and medical devices. As a matter of fact, the part that was 3D printed in-flight for the first time was a medical cast that had been created by a 3D scan of a Marine's arm. This was then turned into a design with the assistance of generative design software. The cast was printed on the Osprey while it was engaged in multiple ground and flight modes, including taxi, takeoff and in-flight maneuvers.
The 3D printer used for the demonstration is also notable. Named the Advanced Manufacturing Operational System (AMOS), it was developed by Spencer Koroloy who is an engineer at Naval Information Warfare Center (NIWC) Pacific in San Diego. According to the press release, AMOS is renowned for speed, reliability and expeditionary ruggedness. All important qualities when it comes to gear that must be taken on military missions. That being said, we do not know the exact 3D technology it employs. Given the focus on medical, it could certainly be any number including extrusion, SLS and vat photopolymerization, all of which are already used in the field.
Lt. Col. Michael Radigan, a liaison to NPS from the MIU, concludes, "We are just scratching the surface on the capabilities that will come from being able to 3D print in flight. Dozens of printers being installed in a modular fashion aboard aircraft brings the ability for mobile production at a scale we have not experienced before." You can learn more in the press release HERE.
What do you think of the Marines' first successful demonstration of in-flight 3D printing? Do you see the technologies' value in the military? Let us know in a comment below or on our LinkedIn, Facebook, and Twitter pages! Don't forget to sign up for our free weekly Newsletter here, the latest 3D printing news straight to your inbox! You can also find all our videos on our YouTube channel.