Elegoo is launching a new product. Kickstarter campaign to fund its new giant 3D printer —the OrangeStorm Giga. We mean it when we say "giant". This 3D printer is so large that it can print a child. It's expected to release with a $2500 price tag.
The OrangeStorm Giga's build volume is 800 mm x 800-mm x 1,000 mm (31.5 inches x 31.5″ x 39.5 inches). The standard 3D printers are 250 x250 x250 mm, while a larger one may be 400-500 mm.  It is much easier to print large objects in one shot than it is to divide them up into several prints.  Imagine printing a large piece of furniture or a life-size statue. Or a large helmet. The printer is bigger than a child.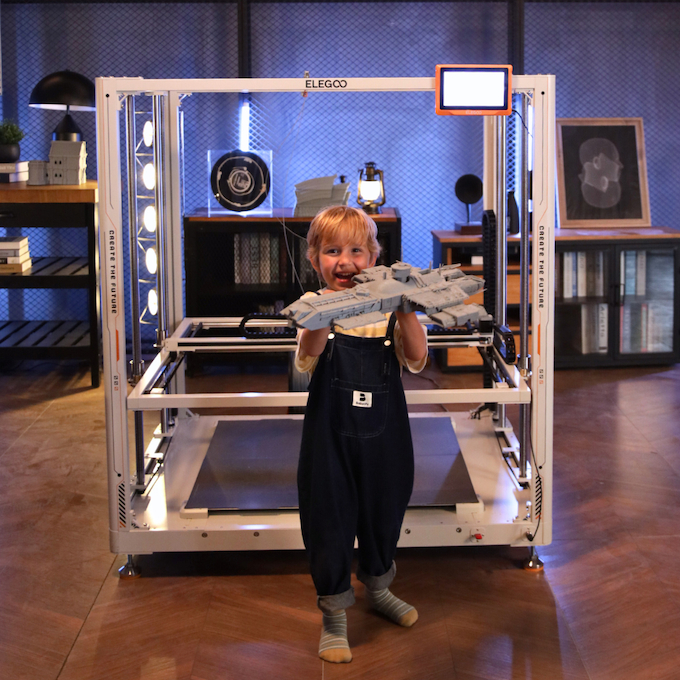 This large capacity allows you to print multiple items at the same time. OrangeStorm Giga allows you to add three nozzles along the X-axis, for a total four nozzles. Each nozzle has to be loaded separately with filament. This makes it possible for four identical items to be printed at the same time, using four different types of materials.
Image 1 You can also find out more about the following: 4
On the Kickstarter campaign page, there are plenty of details on what you can expect in terms of specifications. This includes confirmation that Klipper firmware is supported. The OrangeStorm Giga has a heated bed that measures 31.5 x 31.5″. The printer is powered by a quad-core RK3328 processor with a base speed 1.5 GHz. The printer can print at speeds up to 300mm/s. However, it is recommended users keep it running at around 150mm/s.
The upgrade of the nozzle includes the use 60 Watt heating pad and chrome zirconium. The nozzle can reach 300°C and moves with the help of caterpillar tracks rather than cables. The printer is also equipped with a 7″ touchscreen and a filament spool.
Early adopters receive a 50% discount on the advertised price. The printer costs only $1,250. The remaining tiers will offer the printer for 40% off. Check out the official OrangeStorm Giga Campaign page for more information on the tiers. Kickstarter. The campaign will end on 3rd January 2024.