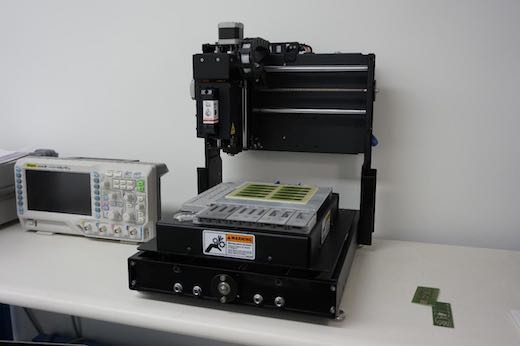 A cost-effective and efficient machine that allows users to prototype circuit boards in minutes, instead of weeks
NEW YORK – BotFactory is an industry leader in products that integrate the entire process of PCB fabrication into a compact and intuitive method. The BotFactory SV2 is a desktop all-in one machine that combines a pick-and place machine, a solder paste extruder and a printer into a single machine. Users can prototype PCBs within minutes, instead of taking weeks.
The SV2 is a cost-effective solution that can print up to six layers of dielectric and conductive ink on a variety of rigid and flexible substrates. The SV2 is ideal for engineering research and design, academic research, defense and aerospace, as well as space exploration. It can print PCBs with multiple layers, allowing users to create intricate circuits. The intuitive software guides users to create a fully assembled, functional 3D printed circuit board. Botfactory also aims to expand the range of possible uses by introducing an option to upload images instead of gerber files.
Three models of the SV2 are available. They are efficient, durable, and cost-effective. Users can upgrade capabilities as their needs change. BotFactory has attractive bulk purchase discounts.
The printer's advanced capabilities, user-friendly operation, and rapid design iteration is ideal for prototyping, and can accurately reproduce even the most elaborate designs from RS274 (Gerber) software files, ensuring a high-quality, intricate PCB that meets the demands of today's cutting-edge projects. The SV2 printer allows users to bring any design to life. By paying attention and understanding the details of the software, they can achieve success. Users can export files from any software which supports the RS274 Gerber format. The software can be used to upload images. It runs on an onboard server.
BotFactory can be contacted at for more information. [Email: [email protected], Phone:+1 (347) 377 268]