Additive manufacturing is also known as 3D printing. It creates physical objects using digital 3D models. This involves adding layers of material to create the final object. The process of creating a 3D model using this method is called Software for Computer-Assisted Design (CAD). To begin the process, you will need a 3D scanner or a slicer. The model is then divided into thin layers. The 3D printer then creates the object layer by layer.
The simple reason to enroll in a 3D printing course that is well-designed is the high demand. It does not require traditional manufacturing processes. For better career opportunities, 3D printing courses have been well-recognized worldwide. Tech students are encouraged and encouraged to enroll in them.
You can also learn from the best and keep up with changing times.
These are the best 12 Free online 3D printing courses To help you realize your full potential.
The Best 3-D Printing Online Courses
Participate in the highest-rated Get 3D online training for free Learn special techniques and build your career! These courses are designed to give students the opportunity to expand their knowledge and skills.
3D Printing represents a major advancement in the printing field. This is why it is important to acquire the right knowledge from the most reliable sources in order to foster technological advancement.
1. 3-D Printing Revolution [Coursera]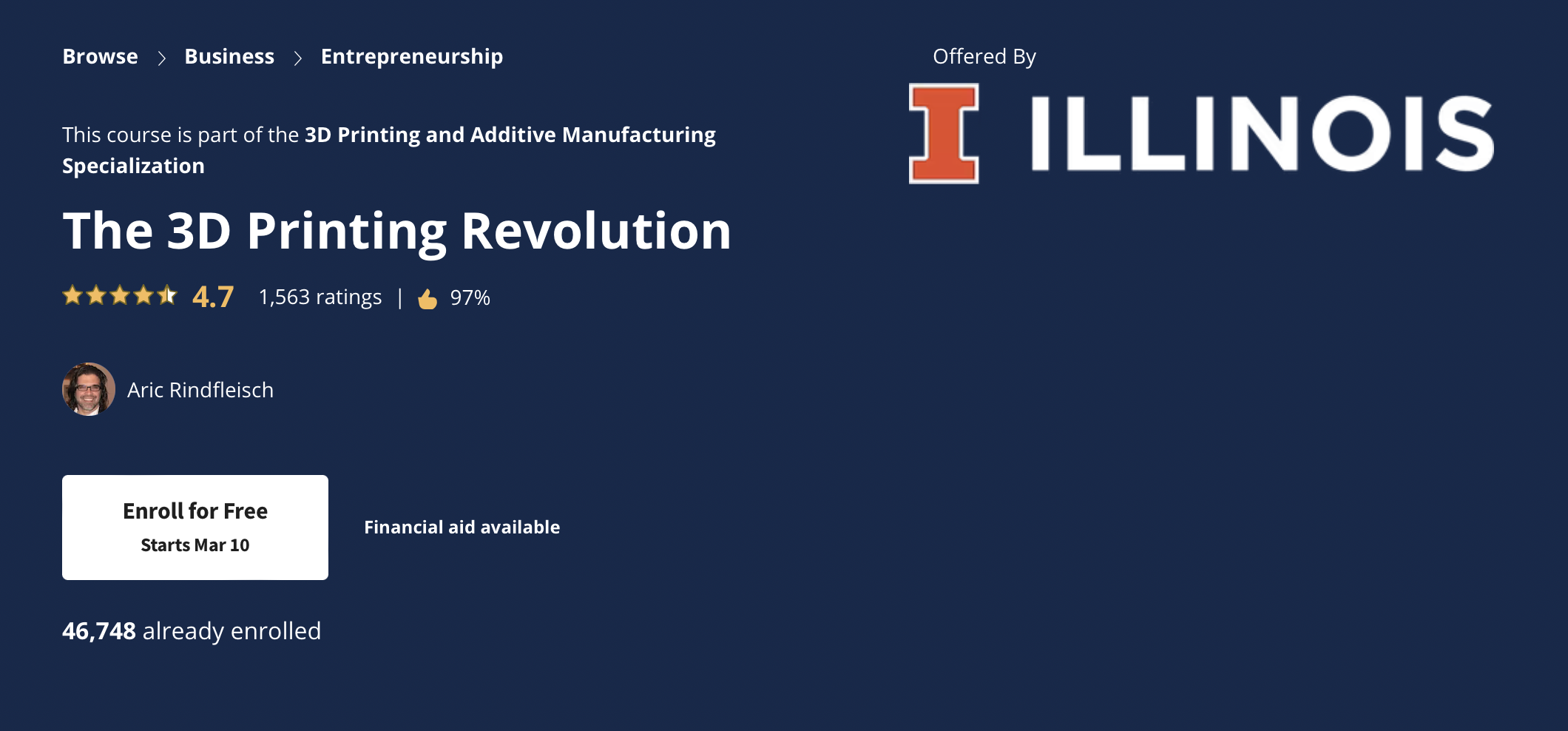 This course will provide information on the 3D printing industry, describe how 3D printers function and show what can be done with them. The course will discuss the impact of 3D printing on society and examine its potential. Study materials include video lectures, interviews with 3D printing experts on the spot, and hands-on activities. This introductory course will teach students how to modify and print 3D models and give them a solid understanding of 3D Printing's revolutionary potential.
The following content is covered: 
New product development 
Customizing 3D designs 
Interaction between humans and computers 
Duration: It takes approximately 10 hours
Rating: 4.7 
Certificates: Yes 
Pros: Flexible deadlines, shareable certification
Cons: It is a little lengthy 
2. Running a 3D Modeling/Animation Business [Udemy]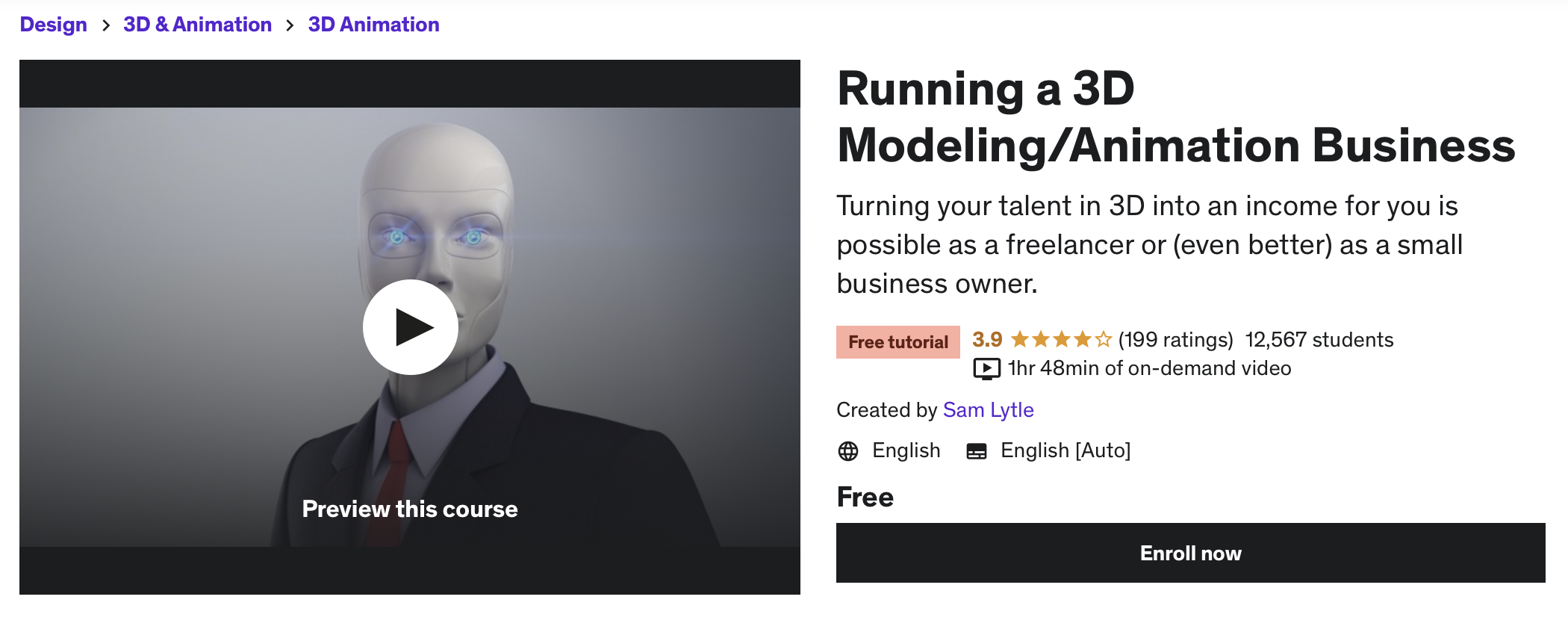 The course outlines the common mistakes 3D artists make when they start their own freelance businesses. It places emphasis on how to stop competing in online freelance marketplaces and instead focus on finding the best clients with the biggest tasks to gain long-term profitability.
Content Covered: 
Know how to make money from your talent.
Make a standout platform and brand.
larger projects with better clients
Recognize the unfair edge you have
Plan your business.
Make the transition from freelancing to operating a successful business.
Strive for passive income
Duration: 1 hour 48 minutes 
Rating: 3.9 
Certificates: No 
Pros: The course is free. 
Cons: No scope for any personal interaction with the instructor
3. Design for 3D Printing: Fusion 360 Masterclass [SkillShare]

The program helps you learn how to use Fusion 360, a potent 3D modeling program that is free for personal use, to create your own models for 3D Printing.
You can confidently tackle simple and sophisticated multi-part projects if you are familiar with Fusion 360's basic features. With the help of this online 3D printing course, you can learn how to develop your own original work from just a raw idea stage to a fully finished functional model. 
Content Covered: 
Basics of Fusion 360 
105 document settings 
Parametric modeling 
Geometric patterns 
Duration: 7 hours 44 minutes 
Rating: 3.9 
Certificates: No 
Pros: The course is free. 
Cons: Can be a little time-consuming 
4. 3D Printing Software [Coursera]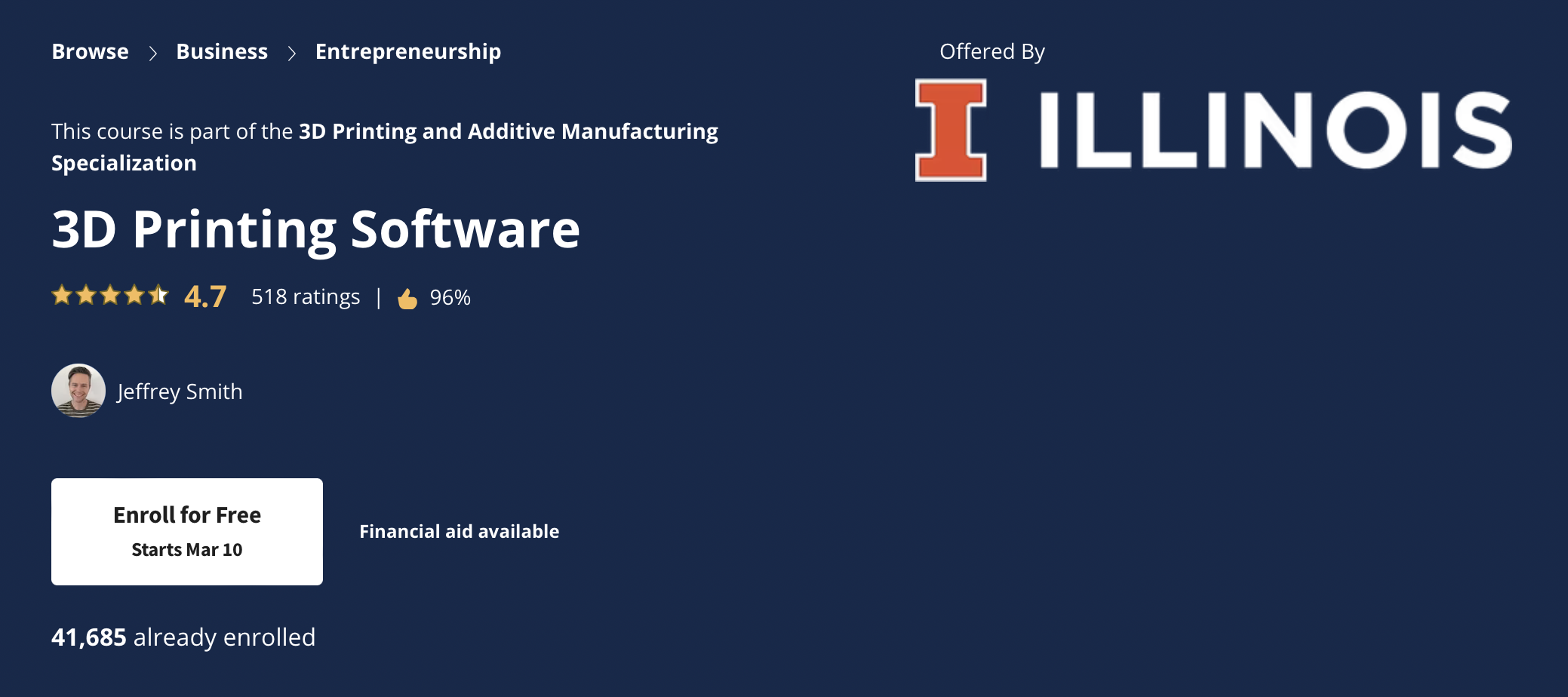 This course demonstrates how to generate digital designs that can be made into actual objects using 3D printing software. Additionally, it shows how 3D scanners operate to convert real-world things into digital blueprints. This comprehensive course walks you through the two well-known 3D modeling applications, Fusion 360 and Tinkercad, with detailed and simplified explanations. On completion of the course, students will be able to design a wide range of things for both personal and commercial use using 3D software. 
Content Covered: 
Introduction to Fusion 360 and Tinkercad 
3D Modeling applications
Duration: 15 hours approximately 
Rating: 4.7 
Certificates: No 
Pros: The course provides extensive training in two advanced software.  
Cons: Certificates are available for paid users
5. Learning 3D Printing [LinkedIn Learning]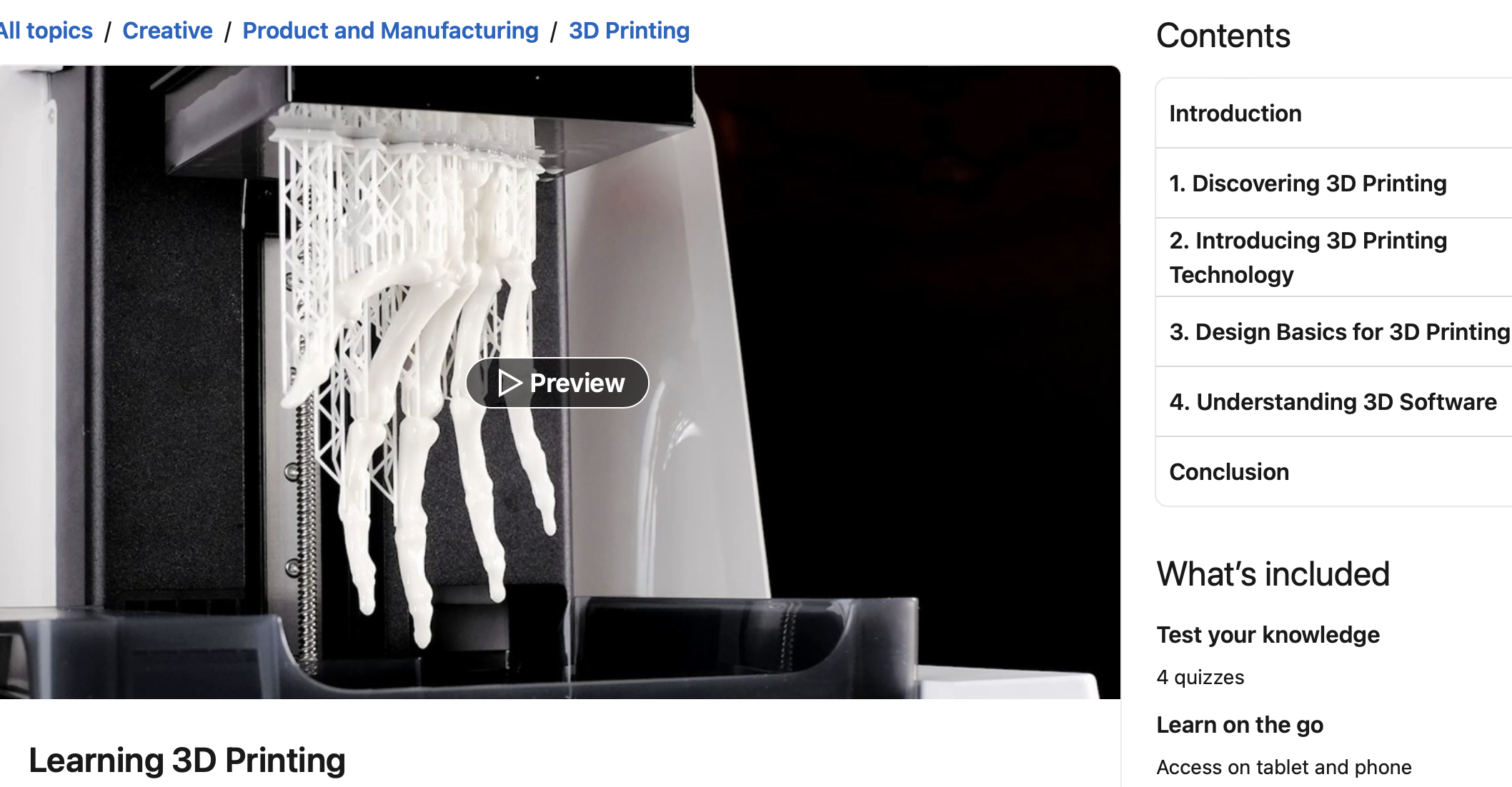 This course provides an elaborate plan for beginning a 3D printing (also referred to as additive manufacturing) business, from picking a machine to studying 3D modeling. This free online course guides you through a number of 3D design tools, such as 3D modeling and 3D scanning, and demonstrates how to generate ready-to-print designs after inspecting a variety of commercial 3D printing technologies (such as laser sintering, jetting, and more).
Content Covered:
Introduction to 3D Printing 
Basics of 3D printing technology
3D printing designs 
In-depth knowledge of 3D software
Duration: 1 hour 17 minutes 
Rating: 4.7 
Certificates: Yes 
Pros: You can share your certificate on LinkedIn and boost your profile.   
Cons: The course content is too basic. 
6. 3D Printing Applications [Coursera]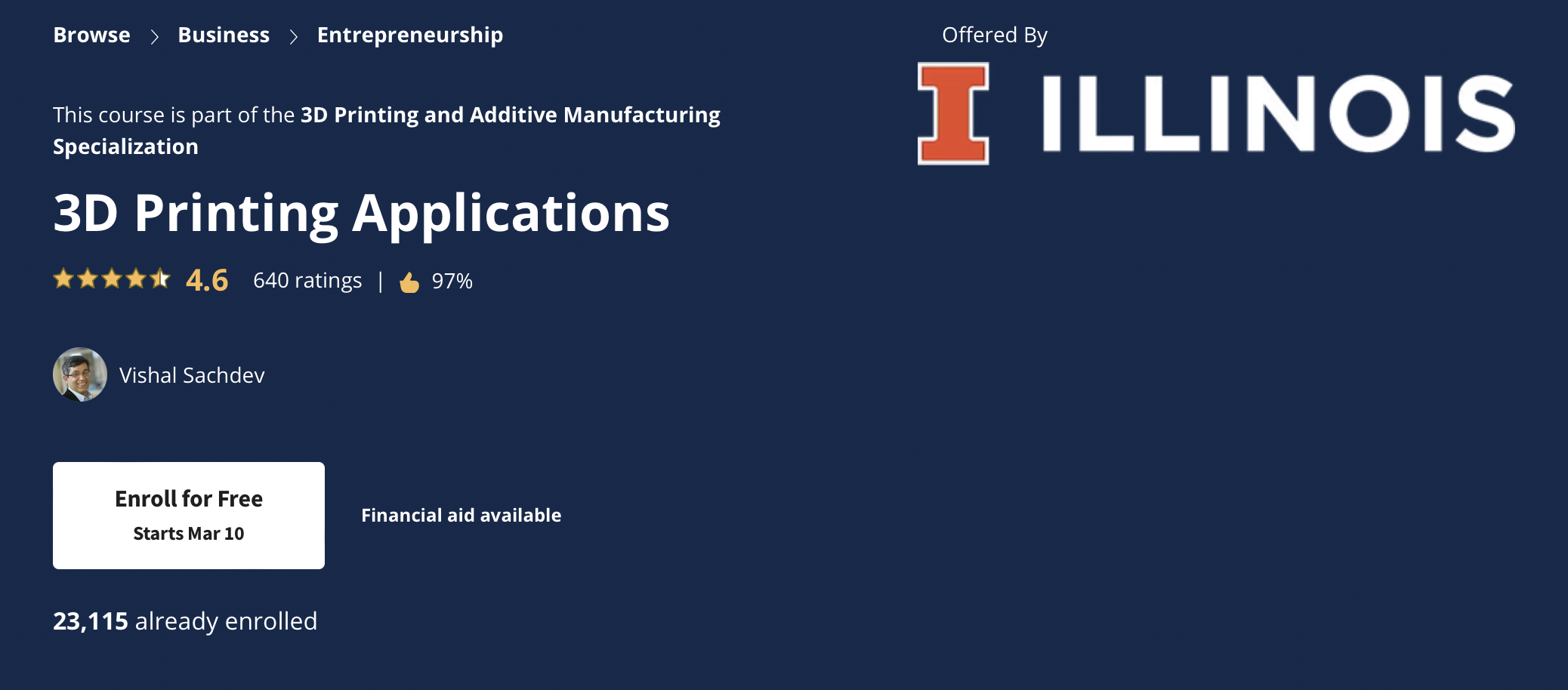 This course will assist you in comprehending how 3D Printing is being used in a variety of industries, such as design, manufacturing, and retail. Additionally, it will show off some of the unique features of 3D Printing, like personalization, self-assembly, and the capacity to produce complicated objects. This course will look at how people, notably those in underdeveloped nations, are using this technology to produce answers to the challenges they confront, in addition to business applications. This course will also give you a general introduction to design thinking and show you how to utilize it to create ideas that can become tangible items.
Content Covered:
Understanding the design, manufacturing, and retail structure of the 3D printing industry
Basics of 3D printing technology
Market analysis
Duration: 20 hours approximately
Rating: 4.6
Certificates: Yes 
Pros: Flexible deadlines  
Cons: It's a bit long 
7. Blender 3D: New User Modeling Trial [Udemy]

This course is aimed at brand-new Blender users who want a quick project to gauge their understanding of 3D and CG modeling using Blender. The only things covered in this introductory video are how to utilize a few editing tools and create a simple object in Blender's Edit mode. However, the course is exclusive of timelines, armatures, texture paint, grease pencil, user preferences, etc.
The following content is covered: 
How to model an object by eyesight 
What are the common modeling options 
Fundamentals of shading and rendering 
Introduction to 3D modeling in Blender 
Duration: 1 hour 23 minutes 
Rating: 2.8
Certificates: No
Pros: Flexible Learning
Cons: No scope for personal interactions with the course experts
8. 3D Printing 101 [SkillShare]

Everything you need to get started in the field of FDM 3D Printing and its applications is covered in the workshop. The course aims to provide tips and tricks and foster a basic understanding of how to use specific software necessary for 3D Printing. You can also expect chapters on materials, troubleshooting, and 3D scanning. This Online Course in 3D Printingwill walk you through each piece of 3D printing hardware and software step-by-step and with printing samples (free of charge).
The following content is covered: 
Instruction on how to use hardware and 3d printing software in detail
Fundamentals of 3D Printing 
Materials needed for 3D Printing
Troubleshooting
Scanning
Duration: 1 hour 20 minutes 
Rating: 4
Certificates: No 
Pros: Comprehensive course yet straight-to-the-point explanations
Cons: No certificate available 
9. 3D Printing: Short-Run Production  [LinkedIn Learning]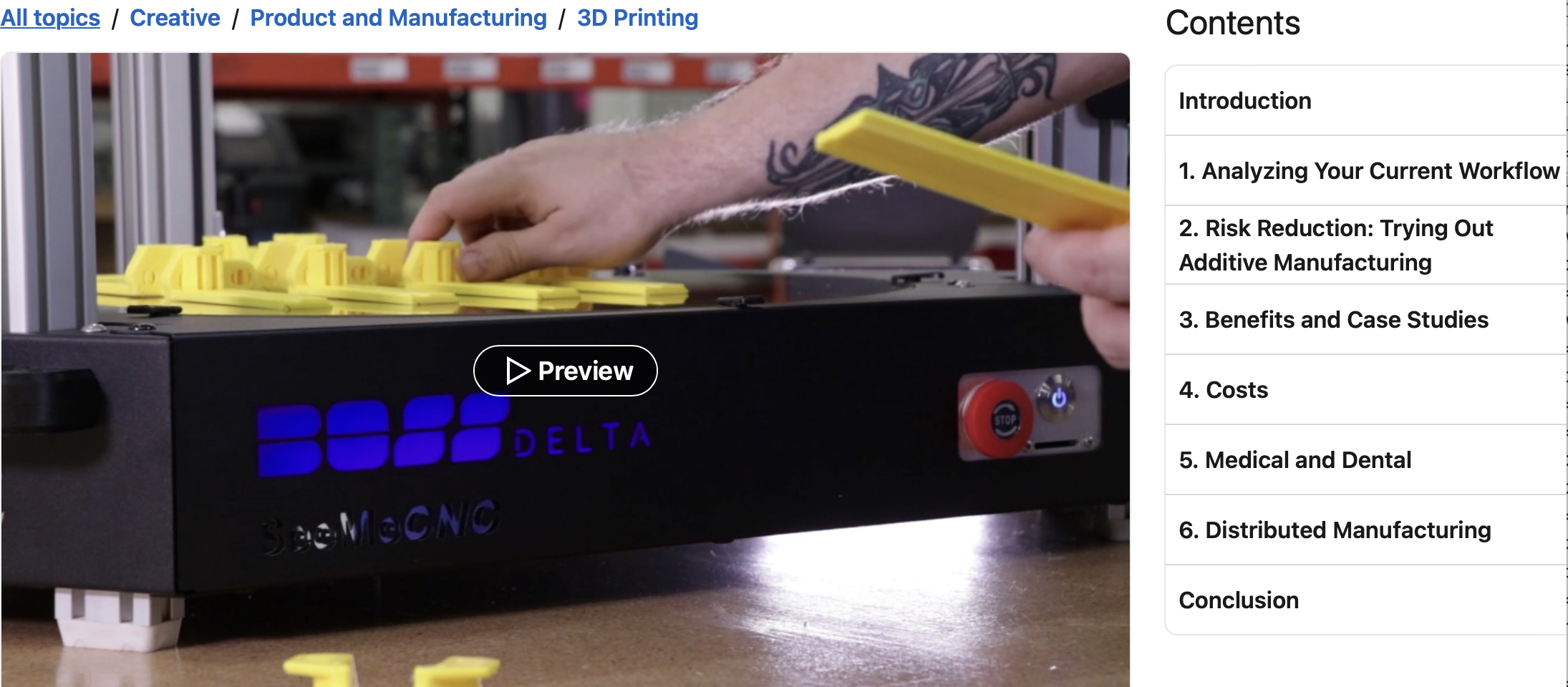 With volumes as high as thousands of pieces, additive manufacturing emerges as a competitive alternative to conventional production processes like injection molding. It can also serve as a fallback for producing bridge components before the availability of the standard ones in a manufacturing facility. The main benefits of 3D Printing are covered in this course, including decreased part numbers, short assembly times, improved reliability, backup options in case of part shortages, and lower tooling costs. The instructors, Rich Cameron and Joan Horvath, review some actual manufacturing use cases where the additive is economical and offer advice on whether materials—filament, resin, or powder—might best fit your business and product.
The following content is covered: 
Analysis of the current working flow  
Risk reduction in 3D Printing 
Benefits and case studies of 3D Printing
Costs involved in 3D Printing
Medical and dental applications in 3D Printing 
Information on distributed manufacturing 
Duration: 1 hour 17 minutes
Rating: 4.4
Certificates: Yes 
Pros: Good for a comprehensive learning
Cons: The course has more content on finances related to 3D Printing than actual 3D Printing. 
10. Photoshop: 3D Printing  [LinkedIn Learning]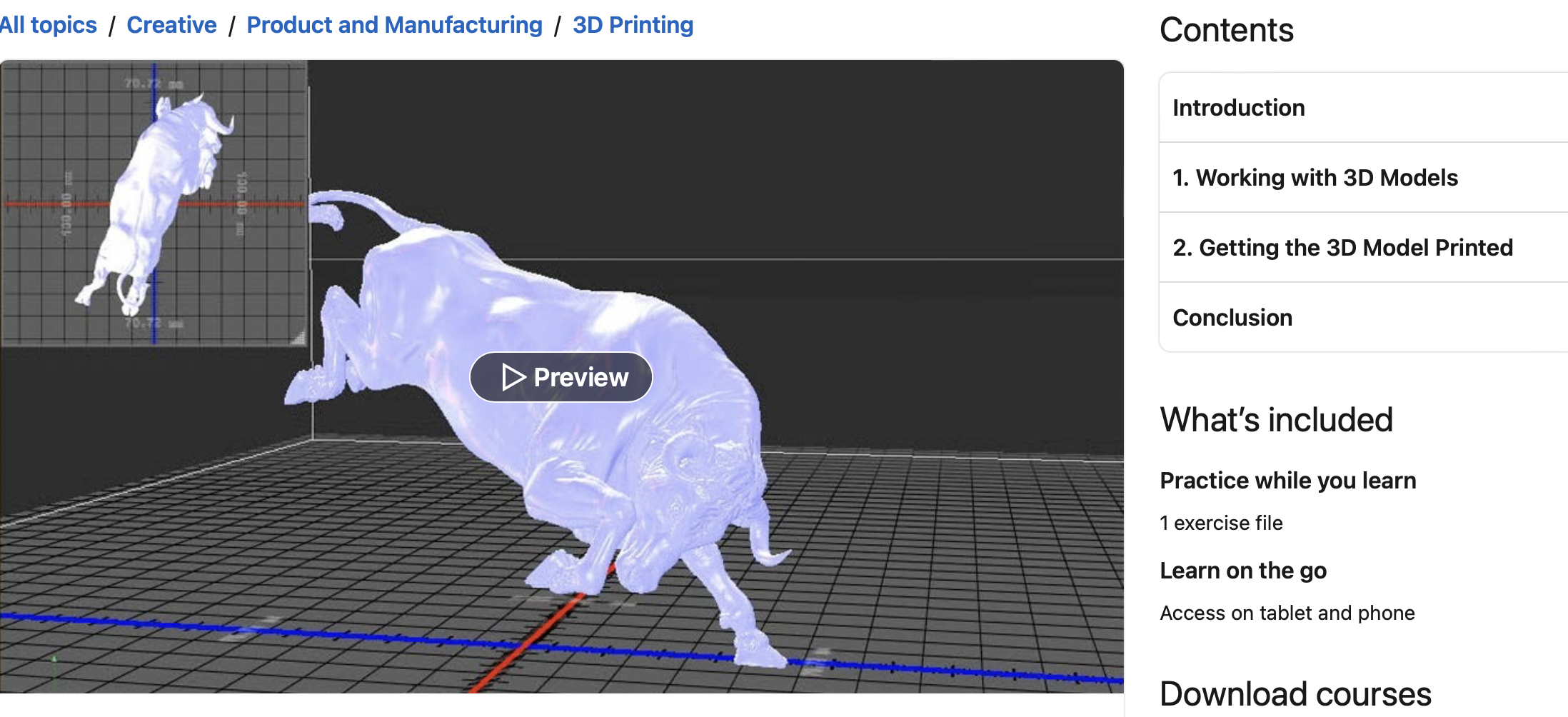 In this lesson of online 3D printing course, you will learn how to import 3D models into Photoshop or create your own. Before the models are exported in print-ready formats, the details can be adjusted using texture maps, opacity maps, and bump maps. The finished models can be replicated at home or through a service like Shapeways. New Photoshop tools in the course automate the procedure for hollowing models and exporting them for full-color Printing, removing much of the hard 3D printing preparation work.
Content Covered:
How to work with 3D models 
How to get the 3D model printed 
Duration: 47 minutes 55 seconds 
Rating: 4.6
Certificates: Yes 
Pros: Apt for learning quick tips and hacks
Cons: Only meant for the advanced learners 
11. 3D Printing Hardware [Coursera]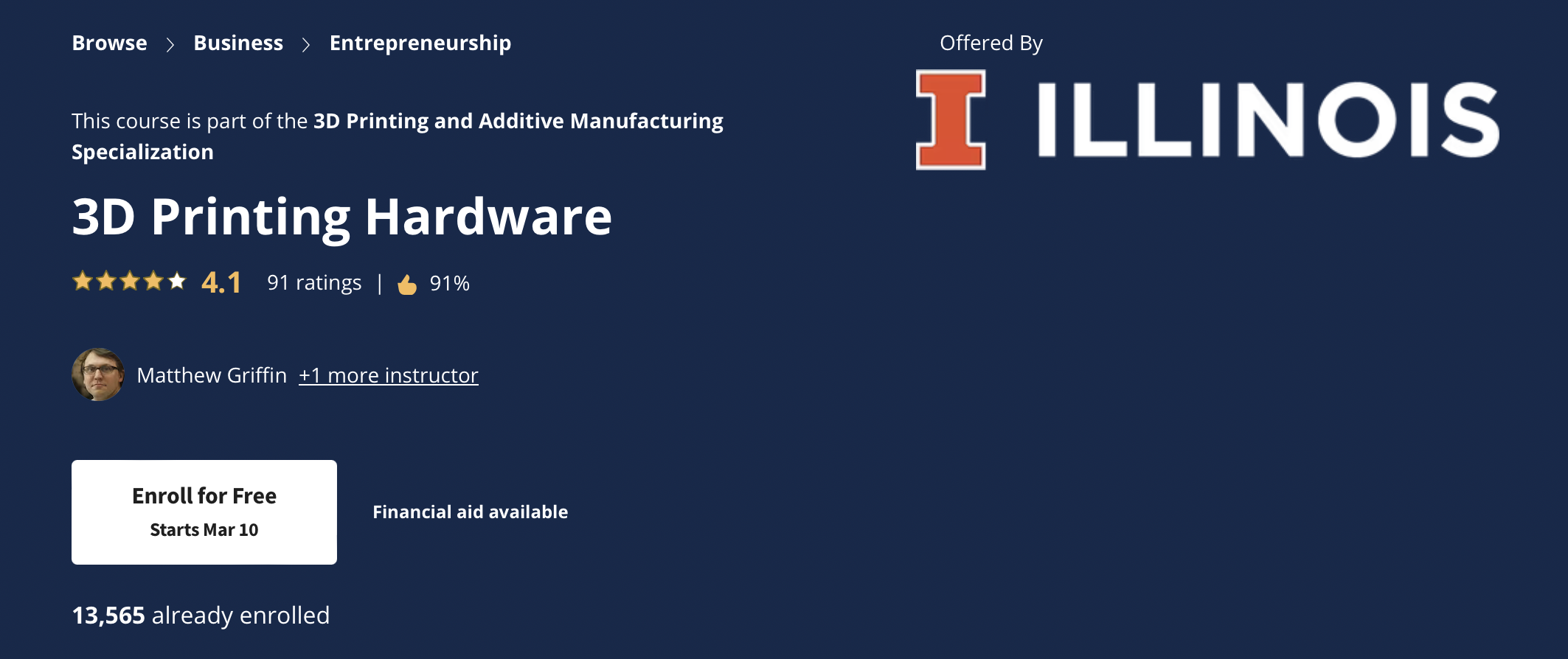 An extensive examination of desktop 3D printing hardware will be provided in this session. It will look at the background of desktop 3D Printing and show how 3D printers are created and operated. The operation and maintenance of a 3D printer will also be covered in detail in this course. 
Content Covered: 
Usage, maintenance, and upgrading a 3D printer
Examination of 3D printing hardware
Duration: 31 hours approximately
Rating: 4.1
Certificates: Yes 
Pros: Available in multiple languages 
Cons: It can be a little hard for beginners 
12. 3D Printing Capstone [Coursera]

In this online 3D printing course, you will be led step-by-step through a process where you imagine, design, create, and share a 3D-printed object. The course emphasizes 3D printing specialization. You will therefore be able to apply the concepts from the courses and use your knowledge in real-life situations. Additionally, you can get a discounted 3D print of the item you design from our business partners, 3D Hubs and Shapeways.
Content Covered:
Desktop 3D printing 
Problem-Solving with 3D Printing 
Development and design 
Process and production
Duration: 6 hours approximately
Rating: 4.3
Certificates: Yes 
Pros: Get a shareable certificate on completion of the course 
Cons: No scope of doubt clearing with the instructors 
Conclusion 
3D Printing has many practical applications, including rapid prototyping, creating replacement parts, and even printing entire buildings. It has also revolutionized the manufacturing world by reducing the time and cost of producing complex objects. As technology grows and becomes more accessible, 3D Printing is poised to significantly impact a huge range of industries, from healthcare to aerospace.
Hence, if you are passionate about pursuing a 3D printing course, then you can refer to the list of online 3D printing courses mentioned above. The key to choosing the right course is to weigh the pros and cons of the different 3D printing courses you are scrolling through.
So, hurry up and get started with your learning right away!
Frequently Asked Questions:
Which Software Is Used for 3D Printing?
There is plenty of software that can be used for 3D Printing, such as Blender, Solidworks, Siemens NX, Catia, etc. 
What Are the Requirements to Learn 3D Printing?
Understanding various 3D printing and modeling software is the sole necessary expertise. There are many free online 3D Printingcourses available to get you printing, whether you're interested in Fusion 360, Blender, AutoCAD, or other software.
Are 3D Printing Courses Good for Inclusion on a Resume?
The demand for 3D Printing talents is currently among the highest due to the increase in digitalization. You have every right to display them if you possess them. Just be sure to present a recruiter with the finest possible view of who you are and what you can do, beginning with the ideal resume.
Do Online 3D Printing Courses Come with a Certification?
Yes, some free Online 3D Printing Courses offer you a certification. Some courses may require you to pay an additional fee.